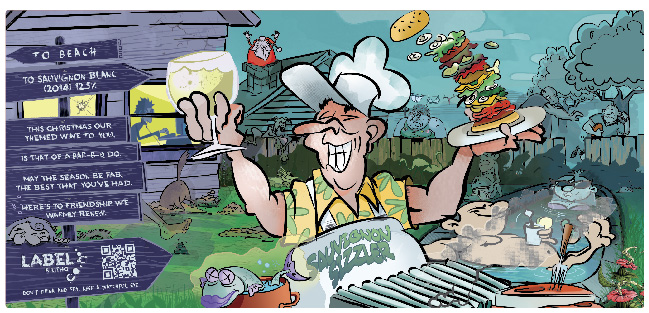 May 13, 2015
Label & Litho Take Home 5 Gold Medals at Pride in Print Awards
This year's Pride in Print Awards were held at Wellington's TSB Arena, hosted by Jeremy Corbett and Ali Mau. The annual event is a chance for the country's label, print and packaging experts to showcase label innovation and advances in printing technologies.
Category winners came from a broad range of printers and print solutions, from Metro Magazine's Jan/Feb issue, to a Guardians of the Galaxy premiere ticket, to a selection of exquisite food and beverage labels.
Label and Litho entered six labels in three categories and came away with a whopping five Gold Medals. We took home Gold for our work in industry development as well as our bread and butter, food and beverage labels. Here's a quick overview of our medal awards:
Office Red (Christmas Label) | Industry Development – Self-Promotion Category
Censor Ale (Christmas Label) | Industry Development – Self-Promotion Category
Sauvignon Sizzler (Christmas Label) | Industry Development – Self-Promotion Category
NZ Whisky Company (double sided label)) | Labels – Food & Beverage Category
Streaky Bacon for Premier Beehive NZ (RFID) | Industry Development – Innovation Category
Label and Litho Company directors Camilla Welch, Hamish Kincaid and Angus Kincaid accepted the awards and were ecstatic with the wins. Camilla says that the medal haul was "a testament to Label and Litho's commitment to quality and innovation in label printing".
Innovation in label printing
Whilst label printing is our area of expertise, the art department team at Label and Litho is also focused on leading the pack when it comes to print innovation.
We are constantly experimenting with new looks for labels; testing new inks, trying out new stocks and technologies, and trialling new approaches to print. Part of why we experiment is to discover innovative print solutions that help our clients stand out amongst the crowd.
Christmas Labels
Every year the Label and Litho team create a special label to go on our Christmas wine and beer for clients. Most people like to enjoy a glass of wine or a bottle of champagne at Christmas time, and that's why bottles of wine make for great Christmas presents or corporate gifts. But when every man and his dog is giving away bottles of wine then you need to find a way to make your wine label stand out.
This challenge is one we welcome here at Label and Litho, and for the past few years our Christmas gift has been a very unique bottle of wine for our clients to add to the Christmas table.
Our Christmas labels stand apart from the conventional labels you find saturating the shelves and Christmas specials because of their unique graphic design and special ink techniques. These labels are our chance to really let loose with our designs and push the boundaries of what Label and Litho can produce. And the Pride in Print judges certainly thought so too.
Office Red – Christmas Wine Label
This label was printed digitally on a on 3D mirror stock to give some depth to the graphics and use the curvature of the bottle to highlight its label design features. White opaque ink was used under certain parts of the wine label to limit which parts of the design were mirrored. The mirror components were, naturally, reflective. So you can see your own reflection in the label – the cheat's way to a cheeky selfie!
Censor Ale & Sauvignon Sizzler Christmas Beer and Wine Labels
These two labels use similar techniques and were both printed digitally on to a holographic film. The design was done by MW Graphics, once again with some artistic input from our team. Here we used opaque white ink under the image to intensify the label colour, getting the graphic to really 'pop' – not unlike the lady in the Censor Ale portrait. The holographic film shines through in these labels and is further enhanced by a special varnish, applied after printing, that gives both these labels a super glossy finish.
NZ Whisky Company
This label needed to enhance the distinctive bottle the NZ Whisky Company and the artwork that we received did just that.
This label was printed conventionally and, technically speaking, was extremely challenging. It was printed in two passes, with 10 colours, on two different stocks. The two stocks were then laminated together to give the inside and outside images on the same label. The image of the distillery shines through the bottle so you can see it looking over (or rather, looking through) its 23 year old single malt. Transparent labels are increasing in popularity, and packaging experts are finding new ways to execute these stylish beverage labels.
Streaky Bacon for Premier Beehive
Kiwis love their bacon, so much so that supermarkets have started seeing a rise in bacon theft. To overcome such bacon thievery, Premier Beehive were applying RF security tags underneath the labels of their 1KG bacon packs – by hand. This time consuming process wasn't working too well for them so they came to us for a solution. We sourced a machine that allows us to pre-insert RF tags under the label itself. The machine we sourced lifts the already printed label from the backing sheet, inserts the RF tag and then re-inserts the label over the RF tag.
Printing labels is our thing
If you're looking for an innovative label solution that can help you protect your products from theft, or simply make you stand out on the supermarket shelves, then get in touch with the Label and Litho team today.
Someone from our team can talk to you about a label solution that will work for you and your business.
Further Information:
Wine Label Printing – We print labels for a range of top New Zealand wines from small vineyards to international best sellers.
Food Labels Online – Our labels are on top of, below, or around the packaging of many of New Zealand's favourite foods. Get a quote online.
Barcode Labels – Label and Litho Limited is an GS1-accredited company for barcode labels.