Printing beer labels
Beer label printing is our speciality. The burgeoning craft beer industry means there are more beers on supermarket shelves than ever before, so creating something unique that stands out from the rest is vital to the success of your beverage.
We can print self-adhesive beer labels for your beer. Shape, size and colour are no problem, and with our new finishing line, we can apply a range of varnishes and finishes that will give your beer label that little something extra.
Beer can labels & keg labels
Canned beer is becoming more popular as breweries start to promote the storage value of cans; less exposure to damaging light, and more protection from the air which can affect the taste. We have several solutions available for beer can labels. We do short run shrink sleeves and keg labelling too.
Commercial beer label printing
Whether you want to print labels on a commercial scale or a smaller scale (minimum 500 labels), Label and Litho can deliver. We strive to ensure your brand integrity is maintained to the highest level and understand your beverage label is the front door to your customer.
The expert team at Label and Litho are here to make your label dreams a reality. We have some of the most modern and cost-effective presses in New Zealand and have a proven track record both nationally and internationally.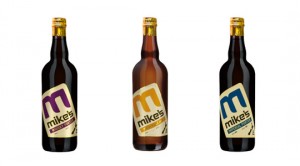 Digital printing and conventional printing
We provide traditional and digital printing methods to produce the highest quality labelling in the most cost-effective way. We like to experiment a little with our printing methods, and we have developed a special way to print glow in the dark beer labels. And we've won awards for beer labels, thanks to our varnish and embellishment printing techniques.
Craft Beer Label Printing
Our digital printing presses are perfect for printing craft beer labels as we can print multiple labels of different designs in the same run. So we can save you time and money, whilst still delivering a premium label product.
FAQS:
Do I stick the labels on myself?
Yes you do, we print your labels and give them to you on rolls.
What if my beer bottle has an unconventional shape?
Talk to us about specific dimensions, shapes and sizes. We have printed labels for an array of different bottles.
Can you print directly onto my beer bottle or beer can?
No we can't. Labels are bolder, and the texture more tactile, if printed onto self-adhesive stock and then applied to a bottle or can.
Further reading