June 7, 2015
Label and Litho at PrintEx 2015
PrintEx is a showcase of over 8,000 printing and packaging industry professionals, and was this year held in Sydney. The expo is an opportunity for industry experts to highlight new ideas, information, tools and machinery, to help advance the printing world.
Label and Litho directors Hamish Kincaid and Angus Kincaid travelled to PrintEx15 to check out what was on offer.
Finishing Line
With an ever expanding and diversifying customer base we are always looking at what is new in the printing world.
When Premier Bacon came to us with a need for more efficient RFID tag insertion we invested in a RF machine to help speed up their process. This innovative and efficient labelling technology also landed us a Gold Medal at the recent Pride in Print 2015 Awards.
The very latest in finishing lines is the Digicon Series 3 from AB Graphics. Hamish and Angus viewed this machine at PrintEx15 and for them it was a major highlight. Hamish says "this new machine introduces a whole new level of quality and sophistication in finishing in to wine/beverage labelling".
So just what can this machine do for label printing?
Digicon Series 3 – Label Finishing Machine
This label printing machine from AB Graphics is a high-spec Finishing Line designed to support a range of special features, including:
high build varnish
sculpted emboss
texture coat varnishes
multi-layered varnishes
unifraxion emboss
textured emboss
male/female emboss
use of up to 3 foils per print run
This machine is the only digital printing machine in New Zealand able to deliver all of these features.
Label Varnishes
Coating or varnishing labels allows us to play around with the gloss and reflective aspects of a finished label. Satin, matte, or high gloss finishes can be applied across the entire label, or just spots of the label to highlight particular design elements. Different types of varnishes will also determine the level of scuff resistance and slipperiness of the label (and therefore the product).
You can create some great label designs by varnishing spots on the label, rather than the entire thing.
Label Embossing
Embossed labels traditionally invoke a sense of luxury and taste. Embossed printing is often used for wedding invitations, letterhead, as well as luxury liquor labels and perfume labels.
This sculpted emboss wine label gives great texture to the bottle, and really highlights the intricacies of the graphic design – especially the cursive writing.
This Rum label is a more conventional emboss style, using gold foil and heavy black ink to enhance its Gatsby-era design influences. This label is produced on heavy stock which only betters the look of the label by giving it depth and better clarity.
Label embellishment
This new labelling machine adds embellishments to labels. Where previous presses allow you to only have one foil stock on your label, this machine allows for three.
This wine label shows a gold foil embellishment. The Digicon gives even greater options for foiling a label.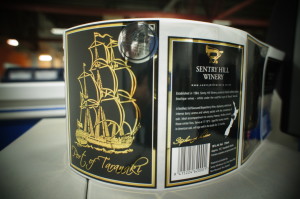 Sentry Hill wine label
Machine debut offers better label printing
If you're interested in the new label printing techniques this machine can offer then get in touch with someone at the Label and Litho team today.