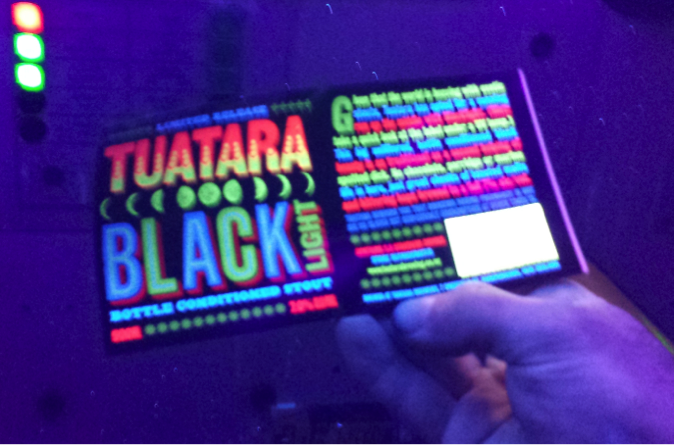 January 25, 2015
Printing innovation: Beer Labels that glow in the dark.
Label & Litho have become known for our quality and technology. But we're also fast becoming known for the creative, quirky labels that come from our Wellington factory.
Our clients come to us with all sorts of interesting ideas for labels – and we love the challenge of turning these ideas into a reality. A label represents your brand in stores, and can suggest many things to your potential customers about the product.
In 2014 Tuatara Brewing approached us to print a label for a beer that was 'glow in the dark' for their Tuatara Black Light Stout. This presented a new challenge for us, as label printing with this ink had not been done before in New Zealand on such a scale.
Learning more about glow in the dark ink
Luckily, the team at Label & Litho love a challenge! So we set out to research as much about glow in the dark ink as possible. We discovered some fascinating things about this type of ink:
– Glow in the dark ink, also known as 'photoluminescent' ink, are primarily made from a type of chemical called 'phosphors'. This chemical absorbs energy and reproduces it as visible light.
– The two most common glow in the dark phosphors used are zinc sulphide and strontium aluminate because their glow lasts for a longer period than other chemicals.
– Glow in the dark things are often green because the human eye is most sensitive to green light and appear brighter. However glow in the dark ink can be created in many different colours – which our labels for Tuatara were!
After learning about photo-luminscent ink and working out how to print with the ink, the L&L team worked with Tuatara to confirm their design and establish what pigments would be used for each element. We then sourced the ink and got to work!
Printing the glow in the dark beer labels – a night time affair
Rather than try to create a dark environment artificially during the day, it made a lot more sense to register the printing press during the night so the ink was easily visible. Our nightshift team set up the inks and press in the dark, then turned the lights back on the operate the machinery and run the job (safety is very important to us as well!).
We had a lot of fun seeing the label come together and matching Tuatara's vision. What was created was a label that is fun, unique and high-quality – all values associated with the Tuatara Brewing brand.