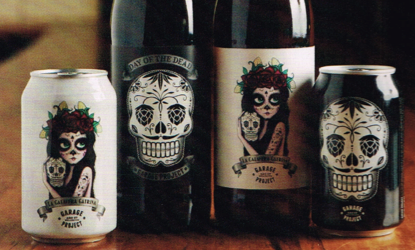 January 30, 2014
Garage Project Beer Labels and Shrink Sleeves by Label & Litho
Dish Magazine recently published some fantastic praise about Garage Project's super cool beer labels. We love Garage project, not only for their creative beer labels, but also for their pioneering approach to both their craft and their labelling solutions.
Dish Magazine also appreciates the experimental nature of the brewery, describing their creative beer labels as "some of the best you'll see." Breweries, especially those in the Wellington Region, have been doing all kinds of creative things to stand out – we love the trend for being novel, different and a little bit out there.
Beer Label Mavericks
In another pioneering move for the beer industry, Garage Project wanted to offer their beer in cans. The problem, however, was that shrink wrap beer labels for cans can be quite costly – traditional methods require large print runs. After we discussed the issue with Garage Project, we decided to digitally print their labels and their shrink sleeves, which meant we could do a relatively short run without the setup costs. Perfect for Garage Project, and once again they had an incredibly cool, trendsetting variety of labels for their cans and their bottles.
It's understandable, really – you have to have some pretty wicked beer labels when your product is called "Day of the Dead," or when you are producing a beer that involves dropping super heated rocks in a vat of beer to caramelise the malt (Red Rocks Reserve).
If you've got some cool, creative label ideas that you would like to make a reality, don't hesitate to drop us a line and find out what we can do for you!